Suits That Fit Your Vision Perfectly
It's the most important day of your life, so why compromise? Antich Fine English Tailors can help you look your best and feel confident and proud on your wedding day.
Whether you choose one of our ready-to-wear suits, one of our bespoke suits or from our formal hire collection or a combination of all the above, we have the perfect suit for your wedding day.
Over the years we have dressed hundreds of happy customers from single groomsmen to full wedding parties, 2-year-old page boys to 6ft 7in rugby players.
There's nothing we cannot do to make your wedding suit as unique and special as your wedding day.
Book Appointment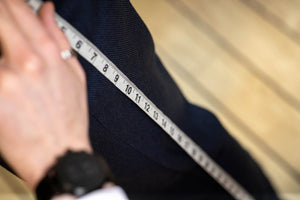 Bespoke - Bring Your Vision To Life
Your wedding day is the perfect time to invest in a bespoke suit, and it's when many gents discover us and start their journey into the world of bespoke tailoring.
Styled just for you, we bring your vision to life, guiding you through the process, style options and colour palettes to craft a suit as individual as you that also compliments your big day.
Take a look at our gallery above for inspiration. Click here to read more about our bespoke service and to book an appointment at our Huddersfield showroom.
Book Appointment
"The hire suits were just what we needed, but the crowning glory was Andy's bespoke mohair burgundy
suit. It was absolutely perfect and we loved that it was so unique."
Antich Formal Hire
We work with hire-wear suppliers that provide great service, a stylish range and offer complete flexibility.
With us, you can dress your entire party in matching outfits, or switch things up with contrasting elements, with options to add in off-the-peg or bespoke elements.