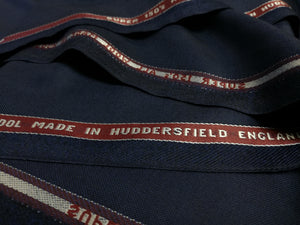 Frequently Asked Questions
Where is my suit actually made?
It's made right here on site. It doesn't fly across the world to be made then finished here. We also don't subcontract to other production outlets. It's important to us we know that not only was your suit made here, but we know who made it through each stage. 
Can I visit?
Absolutely, we are open 7 days a week. Appointments only on the weekend, although we'd advise an appointment at any time. You can visit our showroom, and if we have the resources, we can take you on a tour to see the mill in action and meet some of our production team too.

Where does your wool come from?
Our wool/yarn predominantly comes from New Zealand and Australia. Simply put very few flocks of sheep in the UK produce fleece that has the qualities necessary to be made into wool worsted fabric. Sheep in hotter climates produce finer, less coarse wool perfect for weaving suit fabric. Sheep in the UK tend to provide wool for carpets and upholstery. There are small batches of fabric made from wool from UK sheep which we can work with through our 'Friends of Antich', but we currently don't weave any in-house.
Is your wool sustainable?
All our yarn suppliers are RWS certified and we equally are audited to ensure conformity to their standards through our manufacturing.
I'm not a standard size, can you help me?
Absolutely, the benefits of being an in-house tailor, weaver and production business is that we can pretty much do what we want. Bespoke-wise we can make our garments to any size and shape, but that will require visiting us at the very least on 3 occasions. 
If you simply want to mix up an off the peg item, say a 40L jacket but with a short sleeve, just contact us and we can simply make you a 40L jacket but make the sleeve to a S length. Equally, our off-the-peg items are available in separates rather than the traditional full 2 piece suits, simply because the modern man has changed. Not every gent is a 6" difference between his chest and waist. Also, our trousers are unhemmed to a 38" leg in our regular and long so extra tall gents can finally buy off-the-peg.
My size says available in 4 weeks, some say available now, why is that?
Simply put if your item is available now it's because it is complete and ready to send. If there is a wait, this will be due to the item being in production or due to go into production; your order will push your garments to priority to be completed to send out to you.