Made In Huddersfield
Textile mills once lined the canals and waterways throughout West Yorkshire; through the towns of Dewsbury, Wakefield and Huddersfield. The waters here were, and still are the perfect softness for textile production.
Huddersfield is renowned globally for its textiles, our cloths coveted by tailors and suit makers, not just on UK's prestigious Savile Row, but in the US and throughout the Middle and Far East too.
Today, we are one of a handful that have bucked the trend and still weave fine worsted fabric here in Huddersfield. We believe we are also the only ones in the UK (and possibly Europe) that design and make our suits onsite in Huddersfield too.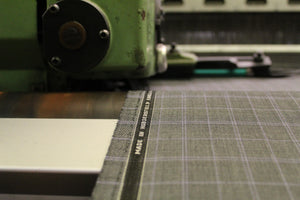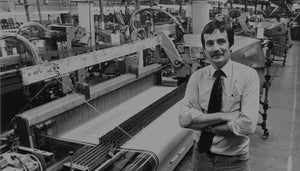 Our History
Chris Antich, our founder, launched the idea that if we were weaving the finest sought after cloth here, why did we send it across the world to be made into garments. Using energy that wasn't needed and not using the talent that was right here on our doorstep.
From this the UK's only weave-to-wear tailor was born. 
Our first factory stood where the aptly named Centre of Excellence for Textiles now lives, before we moved to our current home in Bradley, Huddersfield. Our purpose built factory, ready to continue the growth of UK weaving and garment production.
Today we continue to produce in our Bradley factory; with numerous fabric looms, 3D composite looms, and warping machines. Our garment production suite down the hall from our showroom has 17 employees who contribute to each suit we make; overseen by our technical designer Graeme Pratt; formally of Burberry and Jeff Banks. 
Antich & Sons is in its second generation with David, the eldest son of Chris and Janet Antich  at the head of the business. Janet working across the office from him and his brother Peter working within the factory. A true family-run business where every staff member contributes and matters.