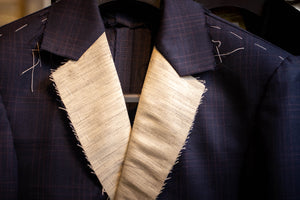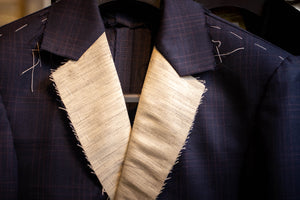 Bespoke
Timeless made-to-measure suits cut from the world's finest cloth.
The Bespoke Experience
Our Huddersfield-based, in-house bespoke service enables you to create something unique, a made-to-measure suit that reflects your individuality and produced just for you.
With over 4,000 fabrics and over 100 different styling and design options, we are certain to have something that meets your needs.
Our award-winning team will guide you through the process of
fabric selection, design and styling, and measurements, whilst taking in to account personal needs and requirements.
Our garment production is 40 footsteps away from our
showroom where you can meet the team who made 
your suit. Our showroom overlooks our weaving factory.
A fascinating and exciting experience to know your suit came from the building you're stood in.
Book Appointment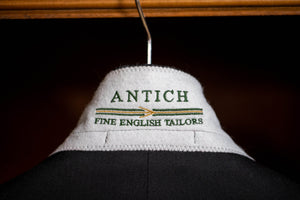 Personal Tailoring
Personal tailoring incorporates the styling and fabric elements of our bespoke service in a conventional sized suit.
It's like buying from our ready-to-wear range, with the ability to choose from our extensive fabric options and add your own styling elements.
Personal tailoring offers you the perfect mix of great fit and customisation, for a suit that is truly unique.
With virtually unlimited button, lining, stitching, lapel and undercollar combinations, our semi-bespoke suits bridge the gap between our classic suit and your creative imagination.
Book Appointment
"
Principles of tailoring, custom options, price points and origins of materials are all explained in an enthusiastic and accessible manner.

"
A World of Luxury Fabric Options
Our parent company, Antich & Sons, has been weaving the world's finest suit fabric in Huddersfield for over 30 years.
We not only weave for some of the biggest luxury brands in the world, we weave for many textile houses and produce our own house fabric which not only stays in our factory, but continues to be world-renowned and sought after by tailors and manufacturers around the globe.
This unmatched capability enables us to give our bespoke and personal tailoring clients access to over 4,000 different fabrics, and potentially one day the option to design your own.
Book Appointment